How To Choose A Unique Gift For Someone Special
How To Choose A Unique Gift For Someone Special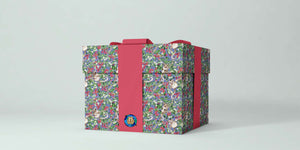 What's the favourite gift you've ever received? Think about how you felt when you opened that present and how it makes you feel every time you see, use, or remember that gift.
Chances are, that gift wasn't the most expensive item you've ever received. Even if it was worth a lot of money, it's unlikely that's what made it special.
The most memorable, valued gifts are meaningful to us. They are things that were chosen thoughtfully by someone who understands and cares for us enough to make the extra effort to find something unique.
We all aspire to be that kind of gift-giver, but it's easier said than done!
If you're struggling to come up with a unique gift for someone special, this article is for you.
Read on for tips and advice for choosing the best present ever!
How To Choose A Unique Gift For Someone Special
Know Your Audience
Gift giving is challenging if you don't know the recipient very well. That's when we often revert to standard gifts like chocolate or flowers.
But if you're looking to give a unique gift to a special someone, you have the definite advantage of knowing them well!
Start by making a list of all their interests. How do they spend their spare time? What do they talk about often? Are they obsessed with a tv show or movie? Do they often reminisce about a trip to their favourite country? Are they fascinated with a particular species of animal or a beloved favourite pet?
This list can help you narrow down your ideas and target something that suits them perfectly.
Solve A Problem
Some of the best gifts are those that solve a problem for the recipient. Take the time to observe and listen to your special someone. What problems do they have in their life?
For example, someone who often experiences back pain would probably be thrilled with a massage pillow.
A person who feels the cold would appreciate a beautifully crafted woollen blanket to snuggle in during winter.
Someone who constantly complains about frizzy, tangled hair would love to receive a luxurious silk pillowcase or silk scarf to help tame their tresses.
Gifts that offer a solution show your loved ones that you listen to them, see them and care about their comfort. Every time they use that gift, they'll be reminded that they mean something to someone else, and that's a wonderful feeling to have.
Embrace Sentimentality
Don't be afraid to get sentimental in your quest for the best unique gift for someone special!
Life's short, and we may not get too many chances to express how much we care about our loved ones, so take the opportunity to give a gift that does exactly that.
This is the time to forget about mass-produced items and gift something truly unique.
Frame a photo that evokes a beautiful memory, engrave sweet nothings onto a piece of jewellery, fill a beautiful journal with a year's worth of memories, quotes, or photos for them to treasure, or commission a custom illustrated personal message or quote just for them.
Make It Personal
Use your knowledge of your special someone to find something personal. Do they love wombats? How about a cute wombat print to hang on the wall?
Go the extra mile to find out their birthstone, favourite colour, book, song, or plant and search for a gift that matches their unique personality.
There's an episode of Friends where Phoebe mentions that she never had a bicycle as a child. Later, Ross surprises her with a grown-up version of the bike she described, complete with a pink basket and ribbons. Aspire to that level of gift mastery.
Give Something That Lasts
While chocolate, wine and flowers can be nice to receive, they don't last very long! Think about getting something that will bring enjoyment and happiness for a long time; something your special someone can use or appreciate time and time again.
Art is a fantastic gift, for example. There are endless photographs, paintings and prints available, so it's not difficult to find something unique and tailored to the recipient. Plus, research proves that art can actually make people happy! 
Choose A Unique Gift For Someone Special
People love gifts that are unique. Instead of getting a run of the mill product that can be found in hundreds (or thousands) of households, search for something original.
Consider supporting small businesses and independent local artists instead of heading to the big brand stores in your hunt for the ideal gift. You're more likely to find a unique, original, and truly special item that your loved one will adore.
We have a great range of items that would make the perfect unique gift for your special someone. Browse our collection of artwork, prints, silk pillowcases and scarves, photography, home decor and more!